Boundary breaking films, compelling artist showcases, and engaging events!
Monday, April 17, 2017 - Sunday, April 23, 2017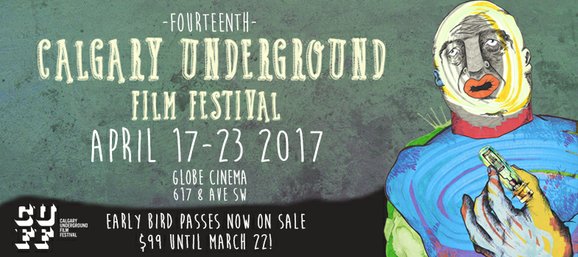 14th Calgary Underground Film Festival 2017
April 17-23, 2017 @ Various Times
Globe Cinema - 617 8 Ave SW, Calgary, AB
$120 Festival Pass | $99 Early Bird Pass
The 14th Calgary Underground Film Festival runs April 17-23, 2017 at Globe Cinema.
For $99 you get access to all films playing at CUFF, two drink tickets, and an invitation to our post-festival passholder screening. Early Bird pricing is in effect until March 22. Buy now and save 15%; passes increase to $120 on March 23 after our lineup announcement.
Check back on March 23 to see the full lineup of films, as well as other events to look forward to at the festival. At this time you'll also be able to buy individual tickets to all films.
About CUFF
CUFF is dedicated to programming films that defy convention. Through the screening of contemporary works in various categories that include: feature, documentary, animation and shorts - we bring Calgarians a unique roster of films rarely seen in North American theatres.
We actively look to showcase titles in all genres, from horror, sci-fi and fantasy to comedies, thrillers and music-related films. In addition to finding great films we are committed to introducing you to the people behind the lens, by showcasing local and international indie filmmakers. We are proud to contribute to Calgary's thriving arts community and are thrilled to bring innovative and challenging selections to all film enthusiasts.
CUFF elevates Calgary's cultural landscape with the best in local and international independent cinema. We challenge and entertain our audiences with boundary breaking films, compelling artist showcases and engaging events.
Calgary Underground Film Festival >
CUFF Facebook >
CUFF Twitter >
Facebook Event >
CUFF 2017 Film List >
CUFF 2017 Schedule >
CUFF 2017 Buy Tickets >