Calgary's Documentary Film Festival!
Thursday, November 16, 2017 - Sunday, November 19, 2017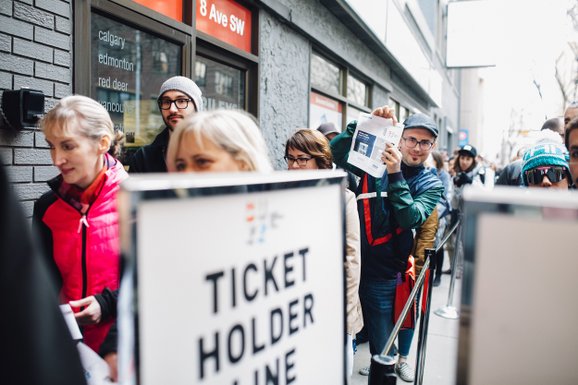 The Calgary Underground Film Festival presents:
CUFF.Docs 2017
November 16-19, 2017 @ Various Times
Globe Cinema - 617 8 Avenue SW, Calgary, AB
$10 General | $8 Members, Seniors & Students (must show valid ID) | $40 Online Multi-Pack | $40 5-Film Punch Pass | $59 Full Festival Pass
LICENSED 18+
Presented by the Calgary Underground Film Festival, and now going into its fifth year, CUFF.Docs will showcase the best in International and Canadian non-fiction films, which have not yet had an opportunity to screen in Calgary.
In advance of the full lineup announcement, CUFF.Docs wants to give you a sneak peak of some of the exciting programming we have in store for the fifth annual documentary festival. We're thrilled to announce the first of the 13 feature documentary films screening at this year's festival: DON'T BREAK DOWN: A FILM ABOUT JAWBREAKER.
We have partnered with The Fifth Reel to program this profile of the influential American punk rock band Jawbreaker. The three band members along with Billie Joe Armstrong, Steve Albini, Jessica Hopper, Graham Elliot, Chris Shiflett, Josh Caterer and more reflect on their "rags to riches to rags" story and lives after the band called it quits.
The festival takes place from November 16 - 19, 2017 at the Globe Cinema, located at 617 8 Avenue SW.
CalgaryMovies.com Review (Emily Mody): California Typewriter (CUFF.Docs 2017) >
CalgaryMovies.com Review (Everyday Activist): The Crest (CUFF.Docs 2017) >
CalgaryMovies.com Review (Everyday Activist): Who is Arthur Chu? (CUFF.Docs 2017) >
CalgaryMovies.com Review (Everyday Activist): The Judge (CUFF.Docs 2017) >
ABOUT CUFF.Docs
CUFF.Docs grew out of both a desire to bring more international documentaries to Calgary, and a necessity. We were seeing so many great documentary films submitted to our annual Calgary Underground Film Festival, and through attending film festivals worldwide, but we just couldn't fit them all in to one event. We saw the appetite for documentaries in this city was huge; we had people ask us repeatedly for more, or for a documentary festival – so we finally decided to go for it.
CUFF.Docs is the perfect place for anyone with the same intrigue and interest in factual content as we have. We'll bring guests with the films, and plan for a unique CUFF-experience with the festival, and the films we present.
We aim to promote art and encourage dialogue.
At CUFF.Docs, the quality of the film is what matters most; we don't book films to make political statements or advocate for particular issues. Instead, we hope to present a range of films that both confirm and challenge beliefs, promoting a sense of wonder and a healthy skepticism, and above all, that continue to advance the medium of documentary filmmaking.
The Calgary Underground Film Festival loves supporting independent film, and with a great team and passionate supporters, we elevate Calgary's cultural landscape!
Calgary Underground Film Festival >
CUFF Facebook >
Buy Multipack Tickets >
Buy Festival Pass >