Something's Gotta Give
Wednesday, February 20, 2019 - Wednesday, February 20, 2019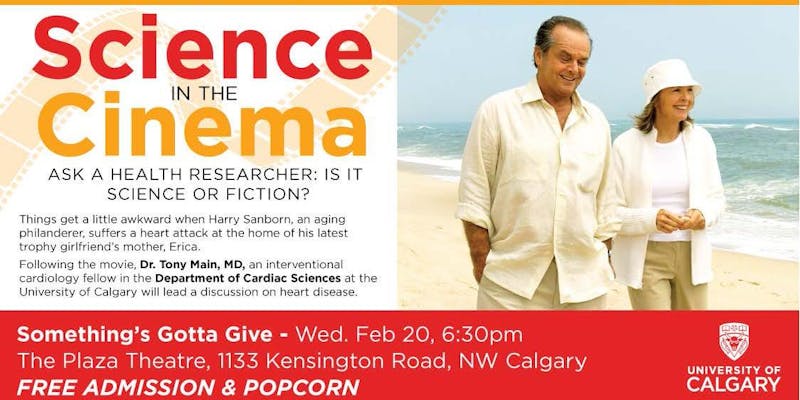 Something's Gotta Give (@003)
Wednesday, February 20, 2019 @ 6:30 PM
Plaza Theatre - 1133 Kensington Road NW, Calgary, AB
Free Admission and Popcorn
Join us for a free screening of Something's Gotta Give at The Plaza Theatre, Feb. 20. Following the film, you will have the chance to ask questions of Dr. Tony Main, an interventional cardiology fellow at the Libin Cardiovascular Institute of Alberta.
*Admission and popcorn are free. Seating is limited and is first come, first served.*
We look forward to seeing you there!
About Science in the Cinema
Hosted by the University of Calgary's Cumming School of Medicine, Science in the Cinema brings together science and popular culture in a fun and engaging way.
Watch a film with a health science theme and listen to an expert explain the science. An interactive Question and Answer period follows each movie.
Science in the Cinema >
Science in the Cinema YYC Facebook >
Facebook Event >
Eventbrite RSVP >