Classic Bruce Lee!
Friday, May 24, 2019 - Friday, May 24, 2019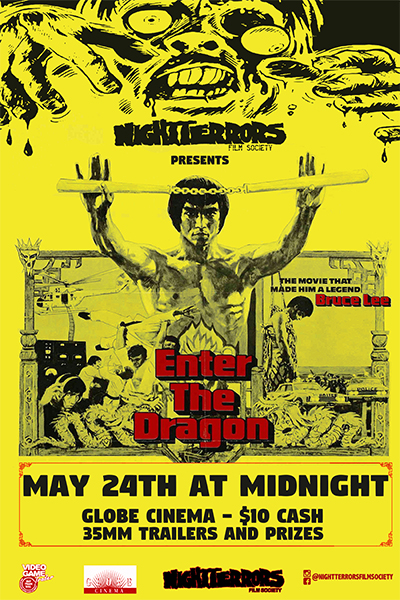 Enter The Dragon (1973)
Friday, May 24, 2019 @ 11:55 PM (Midnight)
Globe Cinema - 617 8 Avenue SW, Calgary, AB
$10 General Admission
Night Terrors Film Society, Video Game Trader and Globe Cinema are pleased to bring you the classic Bruce Lee kung fu film Enter The Dragon!
Bruce Lee plays a martial-arts expert determined to help capture the narcotics dealer whose gang was responsible for the death of his sister. Lee enters a kung fu competition in an attempt to fight his way to the dealer's headquarters with the help of some friends.
Door will be at 11:00pm and tickets are $10 cash only. There will also be 35mm trailers and prizes before the feature.
Calgary Showtimes: Enter The Dragon (1973) >
Night Terrors >
Night Terrors Facebook Event >