Calgary Premiere!
Sunday, June 02, 2019 - Sunday, June 02, 2019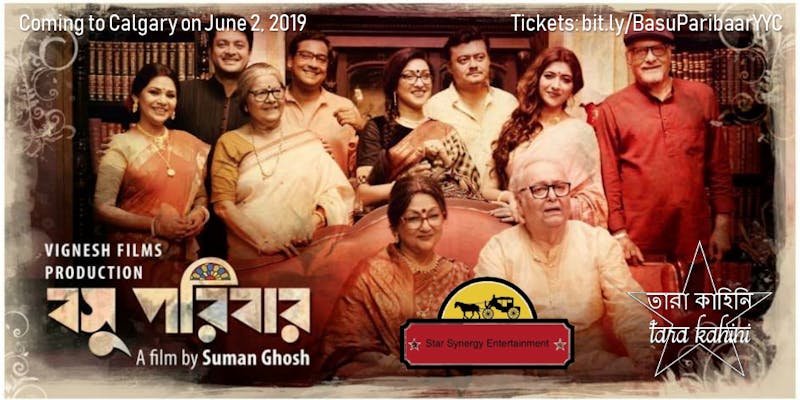 Basu Paribaar
Sunday, June 02, 2019 @ 2:00 PM
Globe Cinema - 617 8 Avenue SW, Calgary, AB
$15 Door | $12 Advance | $10 Children
Witness the premiere viewing of "Basu Paribaar" starring some of the biggest names in Bengali cinema.
"Basu Paribaar is perhaps a microcosm of every joint family that slowly disintegrates with time. While the movie explores the nostalgia and beauty of the big old families, it is also a sad and shocking tale of how the fissures suddenly widen within a very short time and then implodes. What remains are memories of the past and a future that might have been." - Suman Ghosh (Director)
Starring: Soumitra Chatterjee, Aparna Sen, Kaushik Sen, Sudipta Chakraborty, Saswata Chatterjee, Rituparna Sengupta, Jisshu Sengupta, Sreenanda Shankar, Paran Bandopadhyay, Lily Chakraborty, Subhashis Mukhopadhyay, and more..
Date: Sunday, June 2, 2019
Time: 2:00 pm (run-time of 110 minutes)
Venue: Globe Cinema (617 8 Avenue SW)
Seating: first-come-first-serve
Tickets: $10 to $12 online, $15 door (cash only)
★★★
Tara Kahini is a non-profit, community-oriented establishment dedicated to promoting Bengali art and culture abroad in Calgary through films. We are thrilled to be the first to bring Calgary, Basu Paribaar.
Tara Kahini Facebook >
Facebook Event >
Eventbrite Tickets >