@ containR in Sunnyside!
Saturday, August 24, 2019 - Saturday, August 24, 2019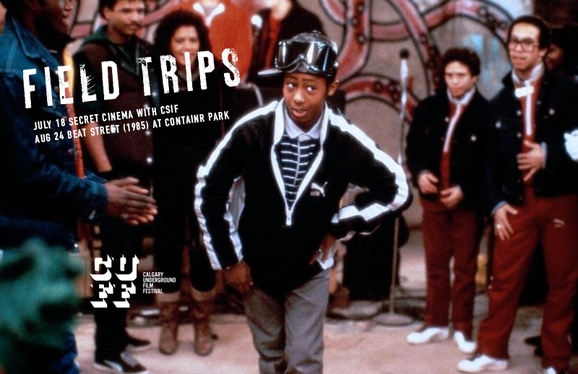 CUFF Field Trips: Beat Street (1984)
Saturday, August 24, 2019 @ 9:00 PM
containR Park - 1020 2nd Avenue NW, Calgary, AB
FREE, Donations accepted
Join the Calgary Underground Film Festival this summer for our annual FIELD TRIPS summer series. Ride into the unknown and enjoy CUFF curated films matched perfectly with unconventional screening locations.
AUG 24 @ CONTAINR PARK
Free entrance, donations appreciated. All ages.
containR in Sunnyside: 1020 2nd Avenue, NW
Film starts at 9 pm
About the film: BEAT STREET (1984)
An aspiring DJ, from the South Bronx, and his best friend, a promoter, try to get into show business by exposing people to hip-hop music. The American drama dance film focuses on New York City hip hop culture of the early 1980s, breakdancing, DJing, and graffiti.
Calgary Underground Film Festival >
CUFF Facebook >
Facebook Event >