OFF THE CUFF!
Monday, February 03, 2020 - Monday, February 03, 2020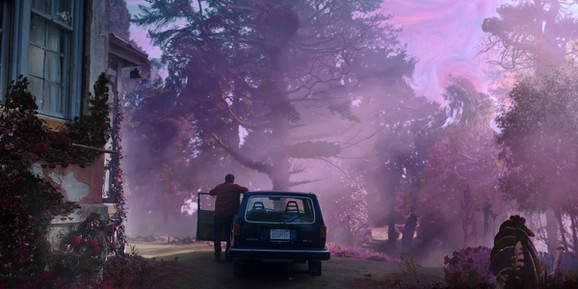 OFF THE CUFF: Color Out of Space
Monday, February 03, 2020 @ 7:00 PM
Globe Cinema - 617 8 Ave SW, Calgary, AB
$10 General | $8 Students/Seniors/Members
Richard Stanley's adaptation of H.P. Lovecraft's classic horror short story stars Nicolas Cage as an unhinged patriarch dealing with the aftermath of a meteor falling to earth and landing on his family's property.
When: Monday, Feb 3 @ 7:00 pm
Where: Globe Cinema (617 8 Ave SW)
Tickets: $10 ($8 members / students / seniors)
BUY TICKETS
SYNOPSIS
COLOR OUT OF SPACE is a story of cosmic terror about The Gardners, a family who moves to a remote farmstead in rural New England to escape the hustle of the 21st century. They are busy adapting to their new life when a meteorite crashes into their front yard. The mysterious aerolite seems to melt into the earth, infecting both the land and the properties of space-time with a strange, otherworldly color. To their horror, the Gardner family discover that this alien force is gradually mutating every life form that it touches…including them.
"Full-bore, glorious B-movie Cage: Cranked up to 11, spattered with gore and bellowing about alpacas." – New York Post
"It's disorderly fun that sports a directorial personality distinct enough to make one grateful for Stanley's return." – Variety
DETAILS
USA, 2019, 111 minutes
Festivals: Fantastic Fest 2019, TIFF 2019, Sitges 2019, Beyond Fest 2019
About OFF THE CUFF
OFF THE CUFF is a year-round series presented by the Calgary Underground Film Festival. For those films we just couldn't make work with our festival dates, we go OFF THE CUFF.
Calgary Showtimes: Color Out of Space >
Calgary Underground Film Festival >
CUFF Facebook >
Facebook Event >
Showpass Tickets >