Boundary breaking films, compelling artist showcases and engaging events!
Friday, April 23, 2021 - Sunday, May 02, 2021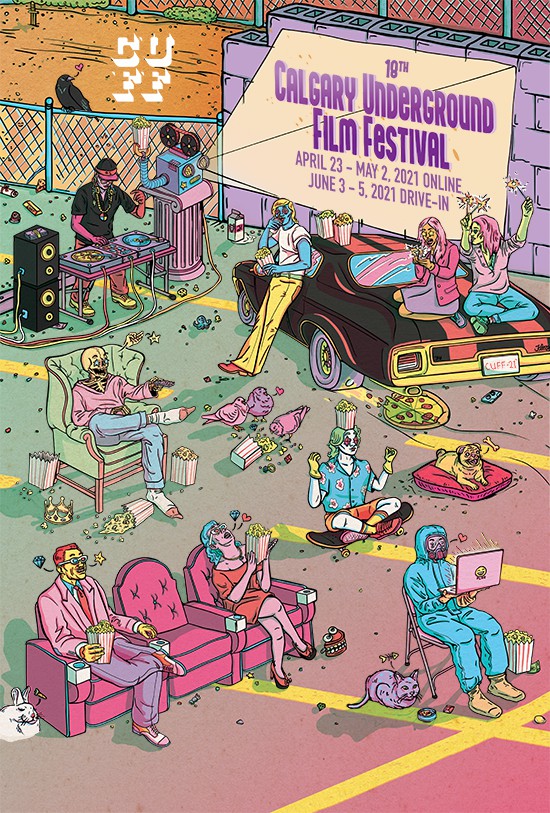 18th Calgary Underground Film Festival 2021 [Online]
April 23 - May 02, 2021 @ Various Times [Online]
June 03-05, 2021 @ Various Times [Drive-In]
ONLINE / DRIVE-IN TBA
$10 General | $8 Members/Students/Seniors | $40 5-Film Pack | $139 Festival Pass | $169 Household Pass
Get ready CUFF Fans – the 18th annual Calgary Underground Film Festival is set to take place this spring! This year there will be two distinct events comprising the 18th edition of the festival. You movielovers will be able to stream the bulk of films over 10 days from April 23 – May 2 followed by three days of drive-ins from June 3-5, 2021.
Like last year, most selections will be available to watch on-demand, with special events – such as CUFF's Opening Night Film, panels and other initiatives – available to stream live at set-times. As always, we'll continue to invite filmmakers to participate in Q&As, and find new ways to engage CUFF fans in the festival experience. CUFF is also set to begin producing a podcast, called CUFFcast, focusing on in-depth interviews with alumni filmmakers and other industry creatives. Hosted by Lead Programmer Cameron Macgowan, the first episode will be released in mid-March.
This year's festival includes 29 features, 3 shorts packages & additional live online events.
CUFF Fans rejoice – the Calgary Underground Film Festival has announced the full lineup of films and live events playing the upcoming festival taking place online from April 23 – May 2. As always, the festival will feature a mix of comedies, horror, dramas, and other unusual fare that Calgarians have come to love.
Programming highlights of this year's festival, includes the Opening Night Film, some big International & Canadian Premieres, and our free National Canadian Film Day (NCFD) online screening. If you're curious about our weekend of drive-ins (June 3-5, 2021) hang tight – those films will be announced in May.
The 18th annual festival will open with the Canadian premiere of the SXSW-selected GOLDEN ARM, an offbeat comedy about a small-town baker who, with the help of her best friend, trains for the Ladies Arm Wrestling Championship. The film will play Live at 7pm MT on Opening Night (Friday, April 23) with the film's director Maureen Bharoocha and lead actress Betsy Sodaro joining for a Live Q&A following the film.
Following the Live Opening Night Screening, most of the festival's films will be available to stream on-demand from 9pm MT on April 23 until 11:55pm on May 2, with a few titles streaming live and others only available for a 48 or 72-hour window.
Program Highlights of the 2021 Festival include:
About CUFF
For 17 years, the Calgary Underground Film Festival has been dedicated to elevating Calgary's cultural landscape with the best in international independent cinema. We're now Western Canada's premiere genre festival, and one of Calgary's most anticipated events for film fans. We challenge and entertain our audiences with boundary-breaking films, compelling artist showcases and engaging events.
Calgary Underground Film Festival >
CUFF Facebook >
CUFF Twitter >
CUFF 2021 Festival FAQ >
CUFF 2021 Film List >
CUFF 2021 Live Event Schedule >
Facebook Event >
CUFF 2021 Buy Tickets >