Help raise money for the Calgary International Film Festival!
Friday, April 02, 2021 - Saturday, April 24, 2021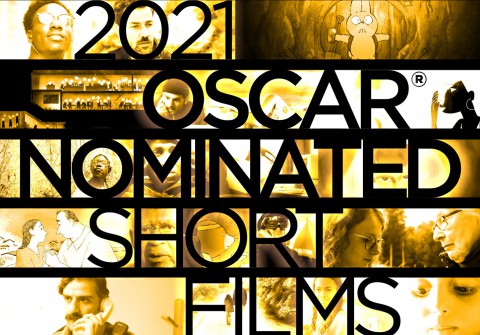 CIFF Presents: 2021 OscarⓇ Nominated Shorts
April 02-24, 2021
ONLINE
$12 Single Screening | $30 3-Screening Pass
For the 16th consecutive year, Shorts HD and Magnolia Pictures present the Oscar-Nominated Short Films, available to stream online April 2 - 24.
With all three categories offered – Animated, Live Action, and Documentary – you get to enjoy great short films and have an edge in the Oscar Predictions! A perennial hit with audiences around the country and the world, don't miss this year's selection of shorts, , and catch The Academy Awards on Sunday, April 25th!
OSCAR NOMINATED SHORTS: ANIMATION
BURROW – Madeline Sharafian and Michael Capbarat (USA, 6 min.)
In Disney and Pixar's new short film, a young rabbit embarks on a journey to dig the burrow of her dreams, despite not having a clue what she's doing. Rather than reveal to her neighbours her imperfections, she digs herself deeper and deeper into trouble.
GENIUS LOCI – Adrien Mérigeau and Amaury Ovise (France, 16 min.)
One night, Reine, a young loner, sees among the urban chaos a moving oneness that seems alive, like some sort of guide.
IF ANYTHING HAPPENS I LOVE YOU – Will McCormack and Michael Govier (USA, 12 min.)
Grieving parents struggle with the loss of their daughter after a school shooting. An elegy on grief.
OPERA – Erick Oh (USA, 9 min.)
OPERA is a massive 8K size animation installation project which portrays our society and history, which is filled with beauty and absurdity.
YES PEOPLE – Gísli Darri Halldórsson and Arnar Gunnarsson (Iceland, 8 min.)
One morning an eclectic mix of people face the everyday battle, such as work, school and dish-washing. As the day progresses, their relationships are tested and ultimately their capacity to cope
Plus, a selection of additional animated shorts from the AMPAS shortlist:
KAPAEMAHU (USA, 8 min.)
A beautiful tale of four mysterious stones, where they came from, the people who looked up to them, and the magic they hold.
THE SNAIL AND THE WHALE (UK/Germany, 26 min.)
The amazing journey of a tiny snail who longs to see the world and hitches a ride on the tail of a friendly humpback whale.
TO GERARD (USA, 7 min.)
In this Dreamworks Studios short, an elderly man loves practicing magic but never has an audience, until a little girl sees him perform at a post office.
Rating: PG13
OSCAR NOMINATED SHORTS: DOCUMENTARY
A LOVE SONG FOR LATASHA– Sophia Nahli Allison and Janice Duncan (USA, 18 min.)
The injustice surrounding the shooting death of 15-year-old Latasha Harlins at a South Central Los Angeles store became a flashpoint for the city's 1992 civil uprising. As the Black community expressed its profound pain in the streets, Latasha's friends and family privately mourned the loss of a vibrant child whose full story was never in the headlines. Nearly three decades later, director Sophia Nahli Allison's LOVE SONG FOR LATASHA removes Latasha from the context of her death and rebuilds an archive of a promising life lost. Oral history and memories from Latasha's best friend and cousin converge in a dreamlike portrait that shows the impact one brief but brilliant life can have.
DO NOT SPLIT – Anders Hammer and Charlotte Cook (USA/Norway, 36 min.)
Told from within the heart of the Hong Kong protests, DO NOT SPLITbegins in 2019 as a proposed bill allowing the Chinese government to extradite criminal suspects to mainland China escalated protests throughout Hong Kong. Unfolding across a year, DO NOT SPLIT captures the determination and sacrifices of the protesters, the government's backlash, and the passage of the new Beijing-backed national security law.
HUNGER WARD – Skye Fitzgerald and Michael Scheuerman (USA, 40 min.)
Filmed from inside two of the most active therapeutic feeding centers in Yemen, HUNGER WARDdocuments two women health care workers fighting to thwart the spread of starvation against the backdrop of a forgotten war. The film provides an unflinching portrait of Dr. Aida Alsadeeq and Nurse Mekkia Mahdi as they try to save the lives of hunger-stricken children within a population on the brink of famine.
COLETTE – Anthony Giacchino and Alice Doyard (France/Germany/USA, 24 min.)
Ninety-year-old Colette Marin-Catherine is one of the last surviving members of the French Resistance. As a young girl, she belonged to a family of Resistance fighters that included her 17-year-old brother Jean-Pierre. The last time Colette saw Jean-Pierre was in 1943 when he was arrested by the Gestapo and "disappeared" into the Nazi concentration camp system, never to be seen by his family again. The family was inwardly shattered, but outwardly stoic. No tears. Never permitted
A CONCERTO IS A CONVERSATION – Ben Proudfoot and Kris Bowers (USA, 13 min.)
The story of virtuoso jazz pianist and film composer Kris Bowers as he tracks his family's lineage through his 91-year-old grandfather from Jim Crow Florida to the Walt Disney Concert Hall
Rating: R
OSCAR NOMINATED SHORTS: LIVE ACTION
FEELING THROUGH – Doug Roland and Susan Ruzenski (USA, 19 min.)
A coming-of-age story that follows Tereek, a teen wandering the streets of New York, desperate for a place to crash when he encounters Artie, a DeafBlind man in need of assistance getting to a bus stop. Out of an awkward meeting between strangers emerges an intimate bond, and a journey that forever changes Tereek.
THE LETTER ROOM – Elvira Lind and Sofia Sondervan (USA, 33 min.)
When an empathetic corrections officer gets transferred to the prison's letter room, he soon finds escape in the deeply personal letters written to an inmate on death row. Starring Oscar Issac and Alia Shawkat.
THE PRESENT – Farah Nabulsi (Palestine, 25 min.)
On his wedding anniversary, Yusef and his young daughter set out in the West Bank to buy his wife a gift. Between soldiers, segregated roads and checkpoints, how easy would it be to go shopping?
TWO DISTANT STRANGERS – Travon Free and Martin Desmond Roe (USA, 25 min.)
Cartoonist Carter James' repeated attempts to get home to his dog are thwarted by a recurring deadly encounter that forces him to re-live the same awful day over and over again.
WHITE EYE – Tomer Shushan and Shira Hochman (Israel, 21 min.)
A man finds his stolen bicycle, which now belongs to a stranger. While attempting to retrieve it, he struggles to remain human.
Rating: R
Calgary International Film Festival >
CIFF Facebook >
OSCAR NOMINATED SHORTS: ANIMATION >
OSCAR NOMINATED SHORTS: DOCUMENTARY >
OSCAR NOMINATED SHORTS: LIVE ACTION >
BUY OSCAR NOMINATED SHORTS PASS >