Panel discussion and virtual film screening!
Friday, April 30, 2021 - Friday, April 30, 2021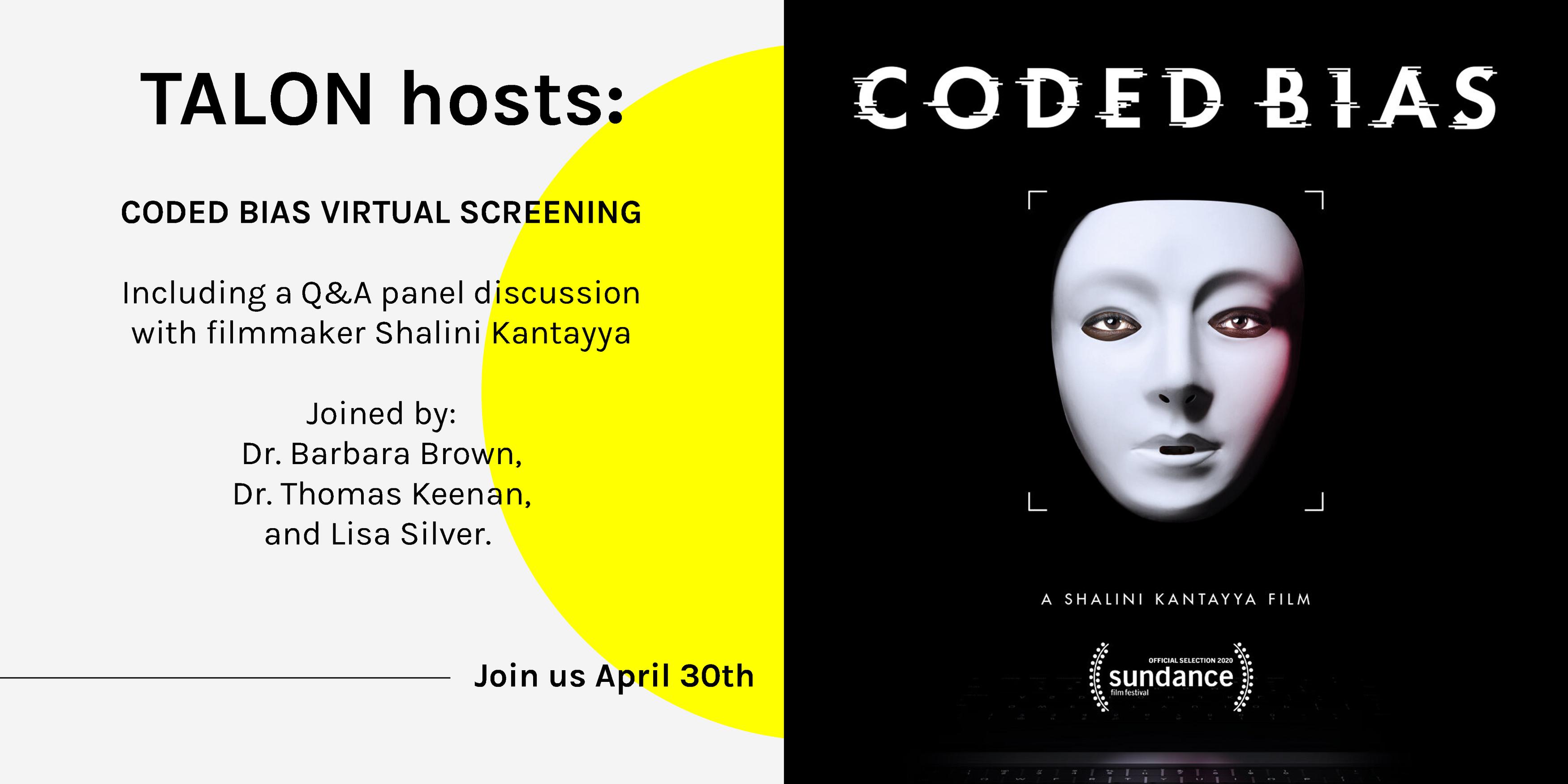 Coded Bias (2020)
Friday, April 30, 2021 @ 10:00 AM
Online
Free w/ RSVP
TALON hosts the CODED BIAS panel discussion and virtual film screening

This virtual event includes the screening of the film CODED BIAS and a panel discussion with the film maker and perspectives on remote teaching and learning from experts in Law, Education, Design and Technology.
Program Schedule
Friday 30 April 2021
10:00am - 11:00am MDT - Panel discussion filmmaker & guests
11:00am - 1:00pm MDT - Film
TALON, the teaching and Learning Online Network, has been exploring what the near universal shift to remote instruction means for teaching and learning for the past year. One year after the first lockdown much has changed including a whole new set of digital tools dominate classroom interaction, what are the implications?
Coded Bias a film by Shalini Kantayya
When MIT Media Lab researcher Joy Buolamwini discovers that many facial recognition technologies misclassify women and darker-skinned faces, she is compelled to investigate further and start the Algorithmic Justice League. It turns out that artificial intelligence, which was defined by a homogeneous group of men, is not neutral. What Buolamwini learns about widespread bias in algorithms drives her to push the U.S. government to create the first-ever legislation to counter the far-reaching dangers of bias in a technology that is steadily encroaching on our lives. Centering on the voices of women leading the charge to ensure our civil rights are protected, Coded Bias asks two key questions: what is the impact of Artificial Intelligence's increasing role in governing our liberties? And what are the consequences for people stuck in the crosshairs due to their race, color, and gender?
PANEL
Shalini Kantayya
Shalini's debut feature, Catching the Sun, premiered at the LA Film Festival and was named a NY Times Critics' Pick. Catching the Sun released globally on Netflix on Earth Day 2016 with Executive Producer Leonardo DiCaprio, and was nominated for the Environmental Media Association Award for Best Documentary. She directed the season finale of the National Geographic television series Breakthrough, Executive Produced by Ron Howard, broadcast globally in June 2017. She has also directed for NOVA and YouTube Originals.
Shalini is a TED Fellow, a William J. Fulbright Scholar, and an Associate of the UC Berkeley Graduate School of Journalism.
Dr. Barbara Brown, Werklund School of Education (University of Calgary, Canada)
Barbara is the Associate Dean, Teaching and Learning in the Werklund School of Education at the University of Calgary and she is the Academic Coordinator for the Leading and Learning in a Digital Age stackable certificate in the MEd Interdisciplinary Program. Her research interests include research-practice partnerships, professional learning, and instructional design in digital learning environments.
Dr. Thomas Patrick Keenan, School of Architecture, Planning and Landscape (University of Calgary, Canada)
Tom was educated at Columbia University, earning degrees in philosophy, mathematics, engineering, and a doctorate in education. He is currently a professor in the School of Architecture, Planning, and Landscape at the University of Calgary, where he teaches courses on smart communities.
Dr. Lisa Silver, Faculty of Law (University of Calgary, Canada)
Lisa holds a B.A. in Economics (UWO, 1984), LL.B. (Osgoode, 1987), and LL.M. (Calgary, 2001). She is a member of the Bars of Ontario (1989) and Alberta (1998). As a criminal lawyer, Lisa has appeared in all levels of Court, including the Supreme Court of Canada. Presently, Lisa is an Associate Professor at the University of Calgary, Faculty of Law, where she teaches criminal law, evidence and is the course director for the 3L advocacy program.
Calgary Showtimes: Coded Bias >