Canada: Monday, April 24, 2017

Fathom Events
Fathom Events and BY Experience present TED Cinema Experience: TED2017 Opening Event, broadcast LIVE to select cinemas nationwide on Monday, April 24. Take a front-row seat at TED2017 Opening Night - the kickoff to the week-long TED conference. Experience revelatory TED Talks and performances as they unfold for the first time on the TED stage in Vancouver, BC. Speakers include Anab Jain, Laura Galante, Titus Kaphar, Garry Kasparov, Tim Ferriss, OK Go and Rabbi Lord Jonathan Sacks.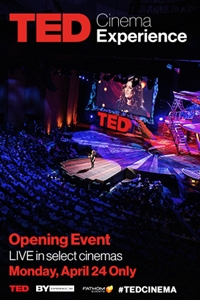 User Reviews
Public Reviews - 0 Reviews
There are no reviews for this movie.