Canada: Friday, April 21, 2017

http://starcinema.abs-cbn.com/movies/can-t-help-falling-in-love
Gab dela Cuesta (Kathryn Bernardo) is an expert at making every plan work. As a financial consultant, she instantly sees a person's need and knows how to work around it. She is used to getting people's approval and we can say that her life is close to perfect. So when her long-time boyfriend proposes marriage, she says yes. But her world is turned upside down when she discovers that she is already married to a happy-go-lucky trip leader, Dos Gonzales (Daniel Padilla). As they figure out how this unlikely incident happened between two strangers, Gab starts breaking her own rules to survive their confusing situation. But the changes in her well-planned life also starts changing her as she eventually falls in love with Dos! Will Gab choose a well-planned life with her long-time lover, or will she take a chance with a perfect stranger?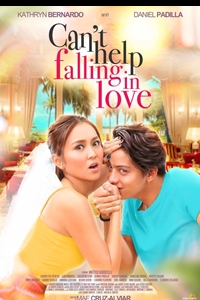 Cast & Crew
User Reviews
Public Reviews - 0 Reviews
There are no reviews for this movie.