Canada: Friday, June 22, 2001
Nationwide: Friday, June 22, 2001

Universal Pictures
for violence, sexual content, and language
Dominic Toretto drives the streets of LA like he owns them. As far as his crew is concerned, he does. He spends his days rebuilding high performance racecars and perfecting the art of computer controlled fuel injection. By night, Dom pockets up to $10,000 each time someone dares to race him in his own earth-bound rocket of a car. Dom lives off of the adrenaline of streetcar racing and his fans treat him like a rock star. Brian particularly looks up to Dominic and seeks his approval, but to the rest of the crowd, he's white bread. After a blazing encounter with the ruthless Johnny Tran, Dom decides to take Brian under his wing. Dom's sister Mia sees something she likes in Brian, too. Trouble is, neither of them realizes he's an undercover cop and Dominic and his rival Johnny Tran are both the leading suspects in a case involving dirty money and big-rig hijacking.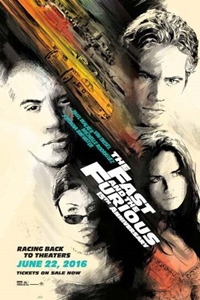 Wednesday, October 21, 2020

7:00 PM, 10:10 PM

Thursday, October 22, 2020

7:00 PM, 10:10 PM
Cast & Crew
User Reviews
Public Reviews - 0 Reviews
There are no reviews for this movie.