Canada: Friday, May 11, 2018

A love story through the eye of a spider drone. Across the landscape of a Middle Eastern desert and an oil pipeline, appears a strange spider-like robot that seems to be scoping the horizon. At the other end of the world, in America, Gordon, drone operator and safe keeper of the pipeline, surveys the desolated landscapes from his screens. Having lost his way in a world he no longer comprehends, he becomes fascinated by Ayusha, a young woman promised to an older man she doesn't love. Despite the distance, their mutual fear and their imperfect interaction, Gordon will do everything in his power to help Ayusha escape her fate, falling for her in the process.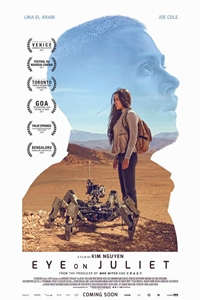 Cast & Crew
User Reviews
Public Reviews - 0 Reviews
There are no reviews for this movie.