Canada: Wednesday, June 13, 2018

Walt Disney Pictures
On Wednesday, June 13th, Incredibles fans can be among the first to experience Incredibles 2 at the double feature fan events, as well as relive The Incredibles, being shown for the first time ever on IMAX screens. In addition to watching the film early, fans attending will receive a commemorative giveaway.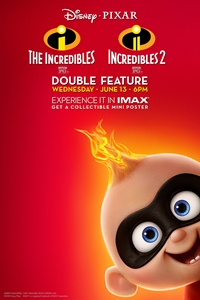 Cast & Crew
User Reviews
Public Reviews - 0 Reviews
There are no reviews for this movie.