Canada: Wednesday, January 30, 2019

Trafalgar Releasing
Alfredo Germont and the courtesan Violetta Valéry fall in love at a party in Violetta's Paris salon. Alfredo is determined to cure Violetta of her tuberculosis, and the couple leave Paris and begin a contented life in the country. But Violetta's happiness is destroyed when Alfredo's father Giorgio Germont pays her a visit.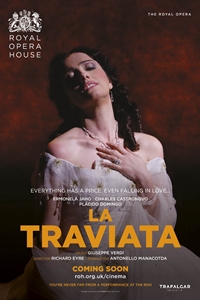 Cast & Crew
User Reviews
Public Reviews - 0 Reviews
There are no reviews for this movie.