Canada: Monday, December 10, 2018

Fathom Events
Celebrate the holidays when Fathom Events and The Jim Henson Company present Emmet Otter's Jug-Band Christmas and The Bells of Fraggle Rock on December 10 and 16 only. These two holiday classics - presented together as "Jim Henson's Holiday Special" - have been remastered and will include an all-new featurette with special guest Amy Poehler and a special greeting from Cheryl Henson, daughter of Jim Henson and president of the Jim Henson Foundation.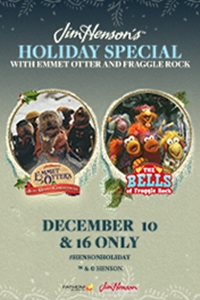 User Reviews
Public Reviews - 0 Reviews
There are no reviews for this movie.