Canada: Saturday, December 15, 2018

The makers of Alice in Wonderland, A Christmas Carol and Snow Queen will delight audiences this year with the classic tale of Thumbelina. This CBeebies Christmas Show recreates on the big screen the live Thumbelina performance and includes an exclusive, additional show made for cinema audiences only starring the much-loved Justin Fletcher (Something Special) in "Justin's Countdown to Christmas".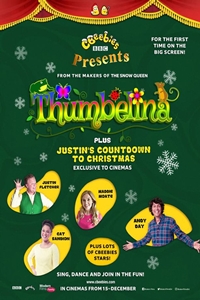 User Reviews
Public Reviews - 0 Reviews
There are no reviews for this movie.