Canada: Friday, March 19, 2004
Nationwide: Friday, March 19, 2004

Focus Features
for language, some drug and sexual content
http://www.eternalsunshine.com/
Joel is stunned to discover that his girlfriend Clementine has had the memories of their tumultuous relationship erased. Out of desperation, he contacts the inventor of the process, Dr. Howard Mierzwiak, to have Clementine removed from his own memory. But as Joel's memories progressively begin to disappear, he begins to discover their earlier passion. From deep within the recesses of his brain, Joel attempts to escape the procedure. As Dr. Mierzwiak and his crew chase him through the maze of his memories, it's clear that Joel can't get Clementine out of his head.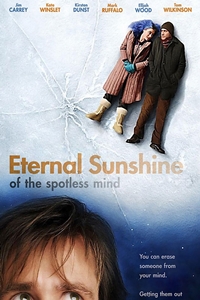 Cast & Crew
User Reviews
Public Reviews - 0 Reviews
There are no reviews for this movie.