MK2 Diffusion
for aberrant sexuality including violence, and for language
Erika Kohut is a piano teacher at the Vienna Conservatory prestigious music school in Vienna. In her early forties and single, she lives with her overprotective and controlling mother in a hermetically sealed world of love-hate and dependency, where there is no room for men. Her sex life consists of voyeurism and masochistic self-injury. Lonely and alienated, Erika finds solace by visiting sex shops and experimenting with masochism. Ata a recital, she befriends Walter, a handsome young man, whom she seduces and with whom she begins an illicit affair. As Erika slowly drifts closer to the brink of emotional disorder, she uses the love-stricken Walter to explore her darkest sado-masochistic fantasies, which eventually lead to her undoing.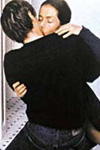 Cast & Crew
User Reviews
Public Reviews - 0 Reviews
There are no reviews for this movie.