Canada: Sunday, July 28, 2019

Fathom Events
Join Fathom Events and GKIDS when Kiki's Delivery Service returns to theatres as part of Studio Ghibli Fest 2019. Celebrate the 30th anniversary of this beloved coming-of-age story from the legendary Studio Ghibli, creators of Spirited Away, and Academy Award®-winning director Hayao Miyazaki, about a resourceful young witch who uses her broom to create a delivery service, only to lose her gift of flight in a moment of self-doubt.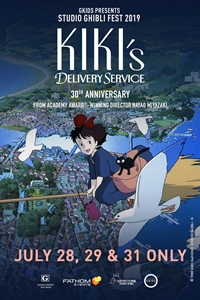 User Reviews
Public Reviews - 0 Reviews
There are no reviews for this movie.