Canada: Monday, May 20, 2019

Fathom Events
Join Fathom Events and GKIDS to celebrate the 35th anniversary of Nausicaä of the Valley of the Wind when it returns to theaters as part of Studio Ghibli Fest 2019. Celebrating its 35th anniversary, Nausicaä of the Valley of the Wind, written and directed by Academy Award®-winner Hayao Miyazaki, is an epic masterpiece of sweeping scope and grandeur that remains one of the most breathtaking and exhilarating animated films of all time. The peaceful Valley of the Wind is nestled on the edge of the Toxic Forest and led by the courageous Princess Nausicaä, whose love of all living things leads her into terrible danger, as she fights to restore balance between humans and nature.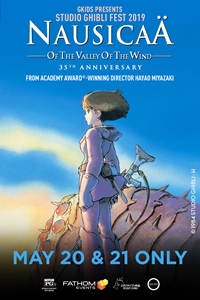 Cast & Crew
User Reviews
Public Reviews - 0 Reviews
There are no reviews for this movie.