Canada: Monday, June 17, 2019

Fathom Events
Emanuel, from Executive Producers Stephen Curry and Viola Davis, is a poignant story of justice and faith, love and hate, examining the healing power of forgiveness. Features intimate interviews with survivors and family members - June 17 only. On June 17, 2015, national headlines blazed the story: Churchgoers gunned down during prayer service in Charleston, South Carolina. After a 21-year-old white supremacist opened fire in Emanuel African Methodist Episcopal Church, nine African Americans lay dead, leaving their families and the nation to grapple with this senseless act of terror.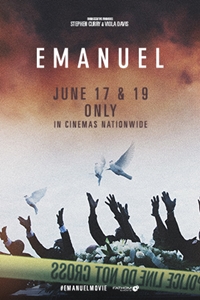 Cast & Crew
User Reviews
Public Reviews - 0 Reviews
There are no reviews for this movie.