Canada: Friday, March 12, 2021
Nationwide: Friday, September 24, 2021

Warner Bros.
for strong violence, pervasive language, sexual content and some nudity.
New Line Cinema's "The Many Saints of Newark" is the much-anticipated feature film prequel to the groundbreaking, award-winning HBO drama series "The Sopranos." The film is set in the explosive 1960s in the era of the Newark riots, when the African-American and Italian communities are often at each other's throats. But among the gangsters within each group, the dangerous rivalry becomes especially lethal.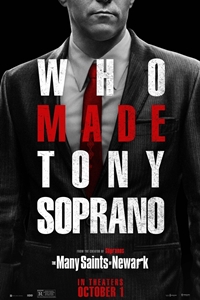 Cast & Crew
User Reviews
Public Reviews - 0 Reviews
There are no reviews for this movie.