Canada: Tuesday, May 14, 2019

Fathom Events
https://www.fathomevents.com/events/batman-robin-event
Celebrate 80 years of Batman when Batman and Robin comes to the big screen! George Clooney stars as the mysterious Caped Crusader in this fourth installment of the blockbuster Batman saga. This time he's up against the cold-blooded Mr. Freeze. Don't miss your chance to see Batman back in theatres for this special anniversary event.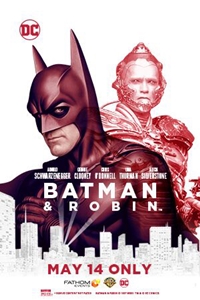 Cast & Crew
User Reviews
Public Reviews - 0 Reviews
There are no reviews for this movie.