Canada: Saturday, May 11, 2019

Fathom Events
https://www.fathomevents.com/events/batman-forever-event
The Batman 80th anniversary celebration brings next installment in the Batman films, Val Kilmer is the Dark Knight, Chris O'Donnell is his trusted new partner Robin. Together they face off against legendary super-villains, the Riddler (Jim Carrey) and Two-Face (Tommy Lee Jones). Join in on the 80th anniversary festivities on the big screen with this classic superhero action!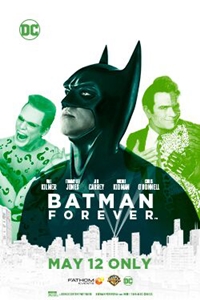 User Reviews
Public Reviews - 0 Reviews
There are no reviews for this movie.