Canada: Tuesday, July 16, 2019

Fathom Events
https://www.fathomevents.com/events/sound-euphonium
Fathom Events and Eleven Arts have come together once more to bring Sound! Euphonium: The Movie - Our Promise: A Brand New Day to theatres. Return to the story of Kumiko Oumae as she takes on the role of mentor towards the new band members.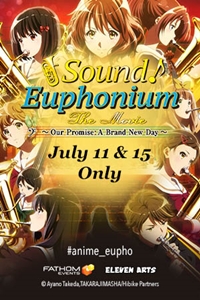 User Reviews
Public Reviews - 0 Reviews
There are no reviews for this movie.