Canada: Friday, June 21, 2019

Sixth Sense Media Company
http://www.facebook.com/photo.php?fbid=2316303361974986&set=a.1556127041325959&
Set in the backdrop of a traditional family, Fastey Fasaatey is a quirky and funny film, based on the lives of three modern-day youngsters Aakash, Anisha, and Dev, who get caught in the traditional family web when Aakash`s parents start forcing him to get married.Aakash tries to buy time from his family to set his love life in order with a free-spirited girl Anisha, who has her own pursuits in life and has no plans of getting married anytime soon. What follows is how Aakash walks the thin line with the help of his friend Dev and saves the day.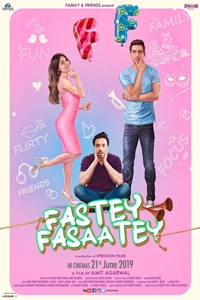 Cast & Crew
User Reviews
Public Reviews - 0 Reviews
There are no reviews for this movie.