Canada: Tuesday, March 10, 2020

Trafalgar Releasing
La bohème explores the love affair between the penniless poet Rodolfo and the seamstress Mimì, contrasting it with the more light-hearted affair between the painter Marcello and the singer Musetta. Mimì is gravely ill with tuberculosis and she and Rodolfo decide to separate so that Mimì can find a wealthier lover to provide her with the care she needs. They are reunited in Mimì's final hours when she returns to the only man she ever loved.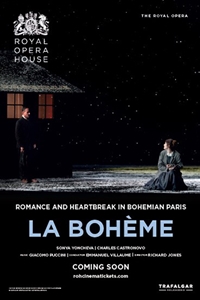 User Reviews
Public Reviews - 0 Reviews
There are no reviews for this movie.