Canada: Sunday, November 08, 2020

Fathom Events
When free-spirited petty crook Randle P. McMurphy (Jack Nicholson) arrives at the state mental hospital, his contagious sense of disorder jolts the routine. He's on one side of a brewing war, soft-spoken, coolly monstrous Nurse Ratched (Louis Fletcher) on the other. At stake is the fate of every patient in the ward.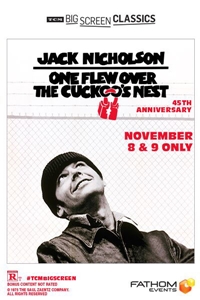 Cast & Crew
User Reviews
Public Reviews - 0 Reviews
There are no reviews for this movie.