Canada: Sunday, December 27, 2020

Fathom Events
Ok, so you're probably going "Is this like a Noxzema commercial or what?" But seriously, Clueless is coming select cinemas for three days only, in celebration of its 25th anniversary! It's not easy being the most popular and glamorous girl at Beverly Hills High. Especially when you're the envy of scheming Betties (female babes), persistent Barneys (unattractive guys), and teachers who go postal (freak out) when you turn your homework in late! Yet somehow 15-year-old Cher keeps it all together, even finding time for extracurricular projects like finding a love match for her debate class teacher and giving a dowdy friend a fashion makeover. The event includes a bonus featurette about the extraordinary dialogue in Clueless.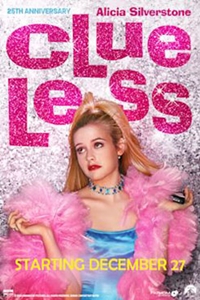 Cast & Crew
User Reviews
Public Reviews - 0 Reviews
There are no reviews for this movie.