Canada: Wednesday, June 15, 2005

Warner Bros.
for intense action violence, disturbing images and some thematic elements
The tale finds the disillusioned industrial heir Bruce Wayne, in the wake of his parents' murder, traveling the world to seek the means to fight injustice and turn fear against those who prey on the fearful. He returns to Gotham and unveils his alter-ego: Batman, a masked crusader who uses his strength, intellect and an array of high tech deceptions to fight the sinister forces that threaten the city.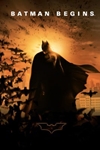 Cast & Crew
User Reviews
Public Reviews - 0 Reviews
There are no reviews for this movie.