Nationwide: Friday, May 09, 1980

Paramount Pictures
On Friday, June 13th of 1958, two Camp Crystal Lake counselors, Claudette and Barry, slip away from the campfire for an illicit rendezvous. They are discovered and murdered by an unseen assailant. Two decades later, the camp is preparing to reopen. The town loony, Crazy Ralph, warns camp cook Annie that "Camp Blood" has a death curse, but Annie continues to hitch her way to camp. Local truck driver Enos tells her the camp lore: the murders in '58, a boy drowning in '57, the fires and bad water that thwarted attempts to reopen the camp. Annie then catches a ride with the wrong person, who chases her through the woods and slits her throat. Alice is left alone against Pamela, whose son Jason drowned at Camp Crystal Lake in 1957. Now all the counselors of the camp must die, and it is one or the other in a match to the death.Who will survive the long night at Camp Blood?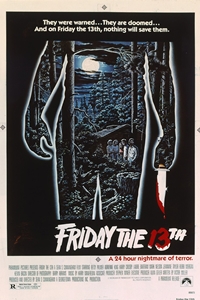 Cast & Crew
User Reviews
Public Reviews - 0 Reviews
There are no reviews for this movie.