Canada: Saturday, November 14, 2020

Outsider Pictures
http://en.desvia.com.br/DIVINE-LOVE-Divino-Amor
In a Brazil where the Evangelical church has been integrated into all aspects of daily life, Divine Love accompanies the journey of a 42 year old woman who uses her position in a notary's office to advance her mission to save struggling couples from divorce. Whilst waiting for a Sign in recognition of her efforts, she is confronted with a crisis in her own marriage that ultimately brings her closer to God.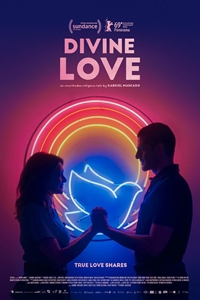 Cast & Crew
User Reviews
Public Reviews - 0 Reviews
There are no reviews for this movie.