Canada: Friday, May 26, 1995

Universal Pictures
for mild language and thematic elements
Casper is a friendly but lonely young ghost who can't seem to help scaring people. Then, one day, two new visitors show up on the doorstep of his fantastically haunted house, Whipstaff Manor: Kat Harvey and her eccentric dad, Dr. Harvey, a self-styled ghost therapist. Whipstaff's scheming owner, Carrigan Crittenden, has hired Harvey to exorcise the house's spectral inhabitants so that she can get her hands on the manor's fabled treasure. Unfortunately for Dr. Harvey, the Ghostly Trio--Fatso, Stinkie, and Stretch--have their own methods of getting rid of unwanted visitors--and a certifiably twisted sense of humor.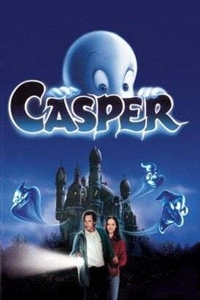 Cast & Crew
User Reviews
Public Reviews - 0 Reviews
There are no reviews for this movie.