Canada: Thursday, July 04, 1963

United Artists
John Sturges dramatisation of the true story of a group of British, American and Canadian POWs who successfully escaped from Stalag Luft III in Upper Silesia in March 1944 is arguably the best World War II adventure film ever made. A host of big-name stars meshes beautifully in this meticulous recreation of the legendary escape. Although this is a film about courage, Sturges wisely takes a low-key approach, leavened with humour, rather than allowing the cast to indulge in macho antics.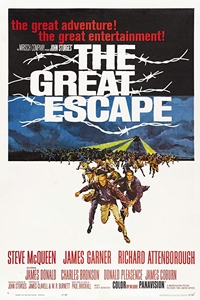 Cast & Crew
User Reviews
Public Reviews - 0 Reviews
There are no reviews for this movie.