feat. Soft Cure!
Friday, January 12, 2018 - Friday, January 12, 2018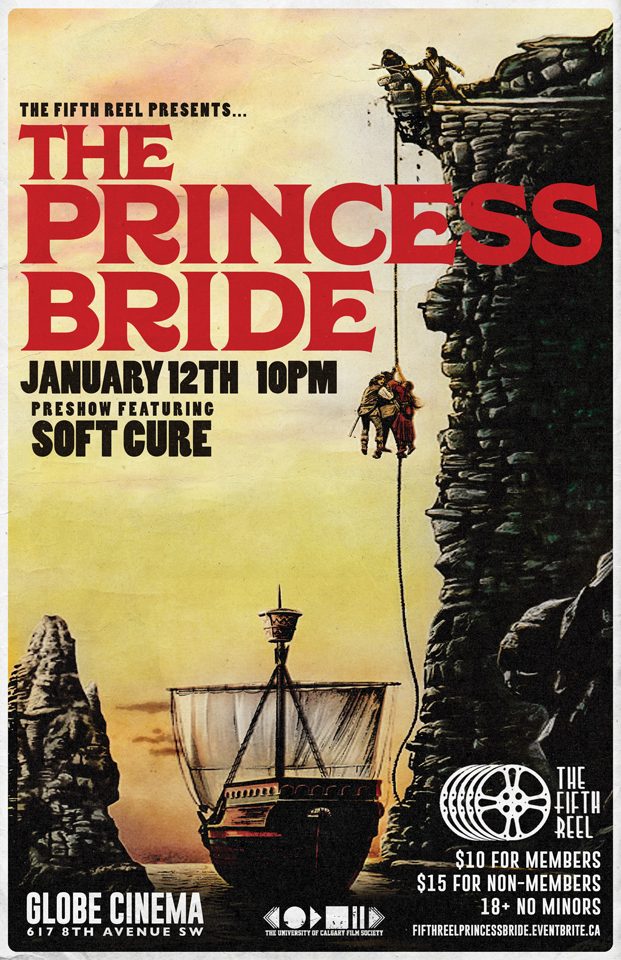 The Fifth Reel presents:
The Princess Bride
Friday, January 12, 2018 @ 10:00 PM
Globe Cinema - 617 8 Avenue SW, Calgary, AB
$10 Members ($8 Earlybird) | $15 Non-Members ($13 Earlybird)
18+/NO MINORS
Just in time for the film's 30th anniversary, The Fifth Reel invites you to celebrate a childhood classic in a different way. On January 12th we're presenting THE PRINCESS BRIDE.
Before the movie enjoy the musical stylings of SOFT CURE:
"Soft cure is a four-piece that hinges on the mind of Seth Cardinal. An art student and enduring experimental musician (The Basement Demons), Cardinal plays with elements of performance and installation, injecting his bedroom pop with theatrics, questions concerning gender roles and childhood tropes. It's a pop-friendly way to interrogate human identity." – Sled Island
As with all Fifth Reel events this event will be LICENSED. We'll have beer for sale which you can take to your seat and enjoy during the show. We'll be serving a special theme drink for the night – THE ANDRE. Make sure to swing by our special Princess Bride themed photo booth so you have something to remember the evening by!
And we're happy to announce, as a Fifth Reel first. Your host for the evening, who you may recoginze from calling out bingo numbers at the Ship & Anchor every Tuesday night, or belting out the best tunes at Broken City karaoke every Sunday -MR. BEAU BARKER!
Band plays at 10:00
Movie starts around 10:30
18+/NO MINORS
Early Bird ticket discount if you order before December 23rd!
$10 for members of The Fifth Reel/Calgary Underground Film Festival/UofC Film Society
$15 for non-members (Free Fifth Reel memberships will be available inside the theatre for those who want to become members for next time)
**UPDATE: Additional Screen Added (Overflow) - If you don't have your tickets for The Princess Bride yet, fear no more! Due to the amazing response we have now added an overflow theatre for this Friday's screening at The Globe. These new tickets will be valid in the downstairs theatre only, where we will just be screening the film and won't have a pre-show. Existing ticket-holders (orders prior to Jan 8) will be unaffected.
That's TWO bumping floors of Princess Bride good-ness, it's gonna be a blast!
We're also happy to announce that the fine folks at World One Arcade will be bringing down some arcade cabs for you to play on - GOLDEN AXE & X-MEN VS STREET FIGHTER!
FIFTH REEL HOUSE RULES:
The Globe Cinema is located at 617 8 Ave S.W. Debit and Credit are accepted at our Box Office, but the bar and concession are CASH ONLY (There is an ATM available on the main floor). The Fifth Reel bar is located upstairs, where you will find our menu of alcoholic beverages. Popcorn etc. is located at the concession stand downstairs.
Audience participation and dressing up is always encouraged. Yelling, cheering, jeering, quoting- a- long are all also highly encouraged. Past screenings have been as loud and as rowdy as the last house party you've been to. The Fifth Reel is an interactive movie going experience, the audience makes the fun. If you expect to sit on your hands in silence for two hours then this might not be for you...
That said; racist, sexist, homophobic, or transphobic language/behavior will NOT BE TOLERATED. We want people of all genders, creeds, cultures, and sexualities to feel welcome at our shows. We reserve the right to remove any patron creating an unsafe environment for our audience, volunteers, and/or staff. If you have any questions or comments regarding our policy please feel free to email or message us.
"What is a Fifth Reel membership?"
A Fifth Reel membership is a super awesome card which grants you member pricing at all our ticketed events as well as member pricing at all Calgary Underground Film Festival events and 2 for 1 pricing at all Kinkonaut shows. Members also receive exclusive deals and prizes through our monthly newsletter. If you're interested in becoming an official Fifth Reel member stop by the box office at one of our shows and pick up yours at the show.
Calgary Showtimes: Princess Bride, The >
The Fifth Reel >
The Fifth Reel Facebook >
Facebook Event >
Eventbrite Buy Tickets >