Nationwide: Friday, February 28, 1986

Paramount Pictures
Andie Walsh is a teenager who lives in the dingy part of town with her terminally underemployed dad. She works at a record store with eccentric Ionia and is considered a misfit at her uppity high school, but somehow she rises above them all. Her oddball best friend, Duckie, is hopelessly in love with her, so he causes trouble for her romantic pursuits. When local rich kid Blaine develops a fascination with her, they go out on a date together. Visiting the home bases of each social clique, they are basically ridiculed for their audacity to date one another. When Blaine eventually asks the delighted Andie to the prom, he is threatened by his rich friend Steff. The romance versus high school social politics finally culminates at the big night of the prom.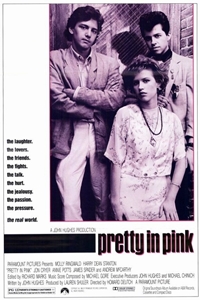 Cast & Crew
User Reviews
Public Reviews - 0 Reviews
There are no reviews for this movie.