Canada: Saturday, September 28, 2019

NCM Fathom
https://www.shakespearesglobe.com/whats-on/the-merry-wives-of-windsor-2019/
NCM Fathom, Globe Theatre and Arts Alliance Media present a four part series of Classical Shakespeare titles in movie theaters nationwide. Captured in 2010 from the prestigious and internationally renowned Globe Theatre in London, the first event of the series will be The Merry Wives of Windsor on Monday, June 27th at 6:30pm (local time). Each performance will include a historical perspective on the Globe, the reconstruction process, the work of the Globe today, and a behind-the-scenes look at the production including interviews from the actors and creative team involved.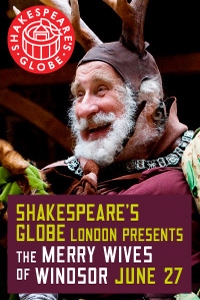 Cast & Crew
User Reviews
Public Reviews - 0 Reviews
There are no reviews for this movie.