Canada: Tuesday, June 20, 2017

http://www.residentevilvendetta.com/
Tasked with capturing a notorious weapons trafficker named Glenn Arias, Chris Redfield of the Bioterrorism Security Assessment Alliance storms a mysterious mansion backed up by a crack team. Despite coming face to face with his target, Chris is forced to abandon his mission and flee after witnessing something unbelievable. His experiences prompt him to seek out Professor Rebecca Chambers, a researcher investigating a virus which reanimates the dead as bloodthirsty zombies. After Rebecca is attacked and her lab is destroyed, she teams up with Chris and the pair enlist the help of special agent Leon S. Kennedy in order to take down Arias before he can unleash a deadly chemical on the people of New York City.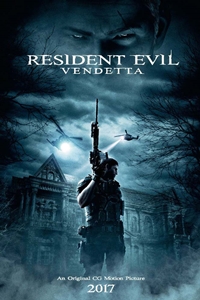 Cast & Crew
User Reviews
Public Reviews - 0 Reviews
There are no reviews for this movie.