Canada: Friday, August 09, 2019
Nationwide: Friday, August 09, 2019

United Artists Releasing
for some strong language and drug material
WHERE'D YOU GO, BERNADETTE is based on the runaway bestseller about Bernadette Fox, a Seattle woman who had it all - a loving husband and a brilliant daughter. When she unexpectedly disappears, her family sets off on an exciting adventure to solve the mystery of where she might have gone.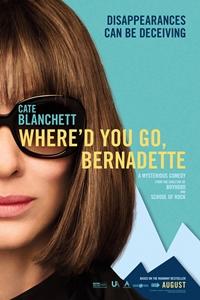 Cast & Crew
User Reviews
Public Reviews - 0 Reviews
There are no reviews for this movie.