Canada: Thursday, November 08, 2018

Yash Raj Films USA
http://www.yashrajfilms.com/movies/thugs-of-hindostan
Based on Philip Meadows Taylor's 1839 novel Confessions of a Thug, the movie tells us about a thug named Ameer Ali and his gang, whose nefarious ways posed a serious challenge to the British Empire in India between 1790 and 1805.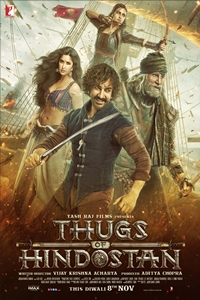 Thursday, November 15, 2018
2D;Hindi W/E.S.T.;IMAX;Reserved

12:45 PM
Cast & Crew
User Reviews
Public Reviews - 0 Reviews
There are no reviews for this movie.