Canada: Sunday, June 02, 2019

Fathom Events
Internationally acclaimed by critics and audiences alike, Saving Private Ryan, directed by Steven Spielberg, is a winner of five Academy Awards® - including Best Director - Saving Private Ryan also garnered two Golden Globe® Awards for Best Motion Picture (Drama) and Best Director. In the last great invasion, of the last great war, the greatest danger for eight men...was saving one.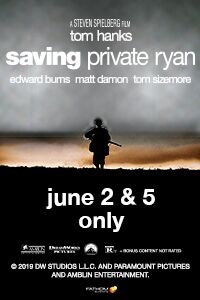 Cast & Crew
User Reviews
Public Reviews - 0 Reviews
There are no reviews for this movie.