Canada: Sunday, July 14, 2019

Fathom Events
Restored in 4K by Sony Pictures Entertainment, Easy Rider returns to cinemas for a special 50th Anniversary event! Experience the real, uncensored '60s counterculture in this compelling mixture of drugs, sex and armchair politics. In the role that catapulted him to stardom, Jack Nicholson portrays an alcoholic attorney who hooks up with two part-time, drug-dealing motorcyclists (Peter Fonda and Dennis Hopper) in search of their "American Dream." Nominated for an Academy Award(s) (1969) for Best Screenplay (written by Peter Fonda, Dennis Hopper and Terry Southern), Easy Rider continues to touch a chord with audiences everywhere.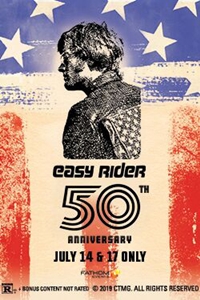 Cast & Crew
User Reviews
Public Reviews - 0 Reviews
There are no reviews for this movie.