Nationwide: Friday, July 16, 2021

Lionsgate
From the Academy Award-nominated writers of BRIDESMAIDS, Annie Mumolo & Kristen Wiig, BARB AND STAR GO TO VISTA DEL MAR follows titular best friends Barb (Mumolo) and Star (Wiig), who leave their small Midwestern town for the first time to go on vacation in Vista Del Mar, Florida, where they soon find themselves tangled up in adventure, love, and a villain's evil plot to kill everyone in town.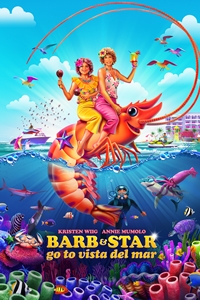 Cast & Crew
User Reviews
Public Reviews - 1 Reviews
Gregory M. - Rated it 3 out of 5

"Barb And Star Go To Vista Del Mar" It's been way too long since we've been able to get together with the people who matter most, and way too long since we've been able to get away from it all with a vacation to a beachy paradise. Take a trip and break out of your shell with Barb (Kristen Wiig) and Star (Annie Mumolo). Lifelong friends Barb and Star embark on the adventure of a lifetime when they decide to leave their small 'Midwestern' town for the first time ever. Romance, friendship and a villain's evil plot hold onto your culottes. Barb and Star's need to get away is thrown into sharp focus when they're kicked out of their 'Talking Club'. What's a 'Talking Club? It's a weekly group with Barb and Star and three or four other ladies. They pick a topic. It's the kind of meetup taking place in homes and restaurants everywhere. But even if women everywhere will recognize their own relationships, Barb and Star's 'Talking Club' might be a little different from the usual. They pick a topic out of a jar, and you can't stray from the topic. They've a strict leader who keeps everyone in line. Women are most in their element when in a group with each other and doing something they love. But this group definitely has a lot of rules and not much wiggle room there. Barb and Star are part of an underrepresented group of women who've their own passions and dreams. The film brings them to life and get inside of them and take them on the adventure they deserve. That means not only windproof hairdos, but a thematic underpinning that's similar to one in 'Bridesmaids' female friendship. Barb and Star are each other's life, it's this very sweet, dependent relationship they've. And they kind of need to go through a hiccup. Is it a culotte or a pair of culottes. Anyway, it's Florida; it's their paradise. As Barb and Star travel from their monotonous surroundings in Nebraska to the exciting sights of 'Vista Del Mar', the entire world shifts. The first palette the film starts with is definitely more muted. Beiges, browns, everything sort of muddy and earthy, representing their life in Nebraska. Then the film moves to a super vibrant palette where it's pops of color everywhere and you're totally stimulated by this tropical resort. 'Vista Del Mar' is the ultimate vacation spot for singles in their middle years. People who want to wear vacation clothes and eat shrimp and drink sugary alcoholic drinks. And ride glass bottom boats. If you like 'Tommy Bahama' and 'Jimmy Buffett', this is your place. A magical middle-aged paradise of Floridian pleasures, 'Vista Del Mar' is too good to exist in real life. It's not just Florida, it's Florida on steroids. Unknown to our heroes, though, an evil plot is afoot, one involving killer mosquitoes, a handsome but sexually frustrated second-in-command, a mysterious boy henchman, an inept superspy, and Mickey Ravelet (Wendi McLendon-Corey), an extremely pale and pasty female crime lord. She's a unique villain with a tortured past, misunderstood, if you will. For instance, she suffers from 'Pigmentatia' degenera hysterica white skinaka. Her look is evil, but also pretty. She's allergic to the sun. When Barb and Star land in Florida, they almost immediately cross paths with Edgar Pagét (Jamie Dornan), who's secretly working to advance an evil plot, and, not so secretly, a hopeless romantic. The other sidekick is known as Yoyo (Reyn Doi). Is he a sweet Barbra Streisand, loving suburban paperboy? Or a Bond villain à la 'Goldfinger's Oddjob' He has a soul of a 95-year-old man in a little boy's body. But he's so incredibly warm and bright and funny and natural. And he's up for anything. When Edgar fails to get the job done, the villainess brings in the big guns with the world's worst spy, Darlie Bunkle (Damon Wayans Jr.). The film is rooted in the emotional journey of two women. Beyond the hysterically funny stuff, beyond the slapstick, there's this heartfelt story about two ladies. They're finding their own identities, finding their way back into a friendship. And while that sounds so serious, that's our hook. At the end of the day, after all the shtick and the funny voices and the one-upmanship, we've to care about them. And if we do, then we'll go along with the rest. A main character can start emotionally singing for two and a half minutes. Even in the background. We've scenes with 500 people wearing shrimp masks. There's the shrimp queen beauty pageant. There's a woman all dressed in white with blue goggles, marching through the crowd. There's a human cannon. The script is a love story to middle-aged women, with the message that it's never too late to find your shimmer. Sometimes all you need is to step out of your comfort zone and shake things up a bit. It's utopia of a certain-aged person that wants to get their groove back. "Vista del Mar is not spring break for 18-year-olds, and it's not like a quiet, laid-back retirement community. It's a party zone for middle-aged people. It's for people who like to strut past the pool wearing a tube top and full jewelry. You're free to walk around in your Speedo from morning till night, if you want to. You can go to the restaurant still in your Speedo, you can parasail still in your 'Speedo'. You can be in every scene in a movie still in the exact same 'Speedo' if you want. In a way, we're going back to "The Wizard Of Oz". Basically, we're going from the beige-brown world of Kansas into the full color world of 'Oz'. So the film pulls out all the stops. 'Cancun' has gorgeous oceans, 'The Caribbean Sea' is this magical turquoise, It's a place filled with strange columns and wrought-iron balconies and pools upon pools with footbridges and skylights. It has very much the classic 'Hollywood Busby Berkeley' overhead patterns, It's very much the intent of the movie to evoke those classic moments, but it's also wrapped up in a very contemporary, modern kind of storytelling. written by Gregory Mann .