Canada: Friday, September 13, 2019

Zee Studios International
http://en.wikipedia.org/wiki/Dream_Girl_(2019_film)
When life bowls a googly, just SWING IT... Set in an intensely crazy, unusual, bizarre space in North India, our protagonist Karm, stumbles upon a job like never before. He joins a love line office and everyone thinks he will not fit in until they hear his beautiful voice and becomes the most popular female friendship caller, Pooja. So, what happens when - a Haryanvi cop, a young spoiled Delhi brat, Karm's Girlfriend's brother all fall in love with Pooja !!!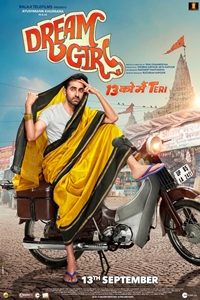 Cast & Crew
User Reviews
Public Reviews - 0 Reviews
There are no reviews for this movie.