Canada: Friday, February 28, 2020

Viva Entertainment LLC
http://en.wikipedia.org/wiki/Thappad
Thappad is a story of Amrita whose seemingly perfect life is shattered when her husband slaps her once in a party. But is one slap enough to question what a relationship stands for?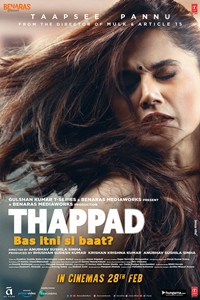 Cast & Crew
User Reviews
Public Reviews - 0 Reviews
There are no reviews for this movie.